[22.08.23 IT Chosun] VOGO Industries Pays a Courtesy Visit to Philippine President Marcos Jr. to Forge Closer Business Relationship with LCS Group in the Philippines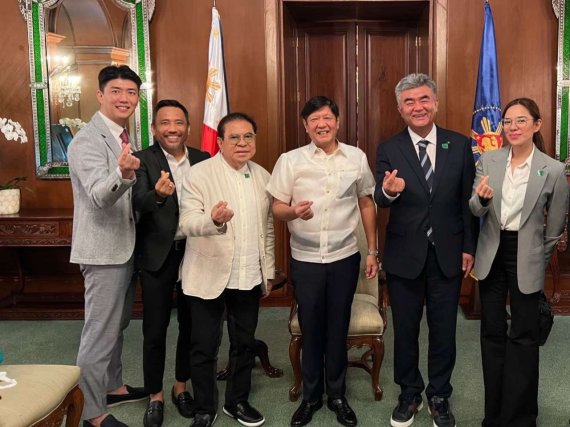 VOGO Industries, a Korean special ship manufacturing company (hereinafter "VOGO"), said on the 23rd that it has incorporated a joint venture for aviation and defense industry in the Philippines with LCS Group in the Philippines, and visited Philippine President Marcos Jr. on 15 August 2022. LCS Group of the Philippines recognizes Korea's international level of defense industry, and decided to establish a joint venture with VOGO in the Philippines, considering its strategic partner VOGO's dedication and technologies are distinguished.
The joint venture aims to build cooperative relationships and create common benefits required for advanced defense industry in the Philippines, by operating and maintaining S-3B Viking anti-submarine air and FA-50PH owned by the Philippine Air Force, planning out curriculum of aviation maintenance, and performing flight tactical trainings.
LCS Group of the Philippines is VOGO's important business partner who signed a memorandum of understanding on 23 June, 2022 to invest US$ 10 million in development and export of WIG ships and rigid inflatable boats (RIBs) to the Philippine Navy.
VOGO has won orders for as many as 330 special military and commercial boats from numerous clients both at home and abroad, including 10 RIBs to the Philippine Navy while the military modernization project is being promoted by many Southeast Asian countries such as the Philippines since 2018.
Particularly, the Carbon Patrol RIB 1200 delivered to the Philippines, which is the first special vessel loaded with carbon composite and diesel outboard in Korea, is obtaining reputation of high satisfaction in the actual operation from the Philippine Navy, so additional delivery is under discussion.
Philippine President Marcos Jr. said, "We plan to spare no support to maintain the successful relationship between the Philippine LCS Group and Korea's VOGO Industries," adding, "We expect VOGO Industries' leading-edge technology to contribute to the advancement of marine aviation in the Philippines."
Chavit Singson, chairman of LCS Group in the Philippines, said, "VOGO Industries' special maritime shipbuilding technology can be responsible for the safety of more than 7,000 Philippine islands, and we recently decided to provide national support." "We also plan to jointly develop important technologies necessary for the operation of anti-submarine aircrafts and fighter jets, as well as high-speed boats, which are important in the national defense of the Philippines," he said.
"We outstripped Zodiac of France, a defense powerhouse, in 2015 and received global recognition for our high-speed ship delivery to South America," said Hyunsoo NOH, chairman of VOGO Industries. "We are happy to meet strategic business partner LCS Group of the Philippines and the President of the Philippines to take responsibility for the Philippines' waters and air."
IT Chosun (https://it.chosun.com/)